Wasaga Beach - River Rd Pizza Takeaway | PizzaForno
Looking for pizza in Wasaga Beach? PizzaForno's automated restaurant at 676 River Road East, L9Z 2M3 serves fresh artisan pizza, baked to perfection. Visit us now!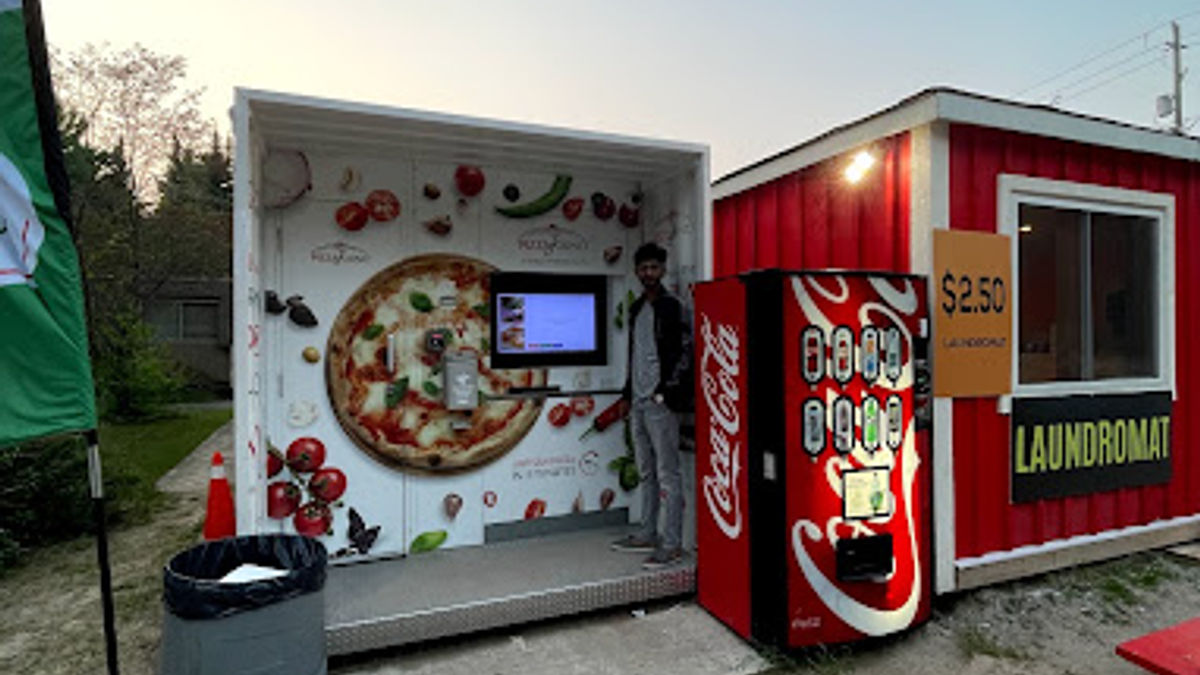 676 River Road East
Visit PizzaForno Wasaga Beach - River Rd's pizza restaurant Today!
North America's Only
Sustainable Automated pizzeria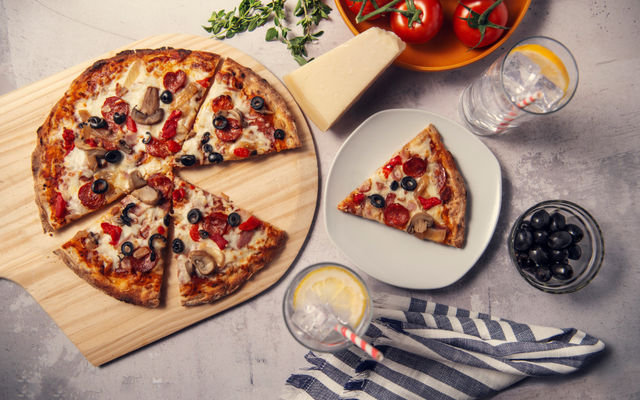 Get a free coupon code directly to your inbox!
Enter your email for a $5 off coupon code!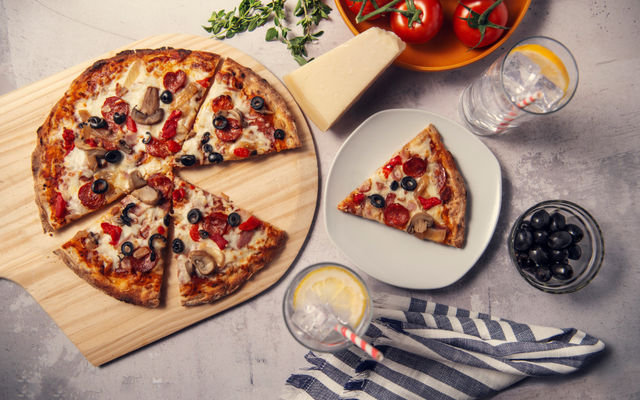 Get a free coupon code directly to your inbox!
Enter your email for a $5 off coupon code!
Read why people keep coming back to:
PizzaForno Wasaga Beach
Love the goat cheese and honey pizza!! It was amazing and the machine is really cool :)

Deanna A.
Had an amazing experience. The pizza was light and airy. Definitely going to be going back. Look forward to stop here during the summer months.

Taylor C.
Time and time again great pizza and a great walk for my dog because it's all outside, extra crispy option needed please 😋

Jon K.
Download The PizzaForno App!
Get exclusive in-app deals, find your closest location, check our current inventory, & even order on the app!
Nearby PizzaForno Locations
We think you'll love!
Orr Lake - Penetanguishene Rd
Craving gourmet pizza in Orr Lake? Look no further than PizzaForno's automated pizzeria at 5639 Penetanguishene Rd, L0L 1P0. Enjoy high-quality ingredients and quick service!
Borden - Typhoon
Discover 24/7 pizza heaven at 14 Typhoon Lane, Borden. Perfect for late-night cravings or quick meals. Get the best pizza near you, ready in just 3 minutes!
Port Severn - General Store
PizzaForno, located at 3274 Port Severn Road, Port Severn, ON L0K 1S0, is the perfect spot to satisfy your pizza cravings. Visit us at the General Store and experience the future of pizza!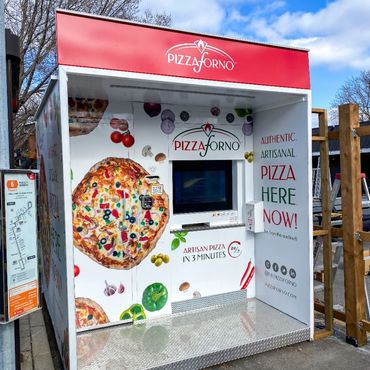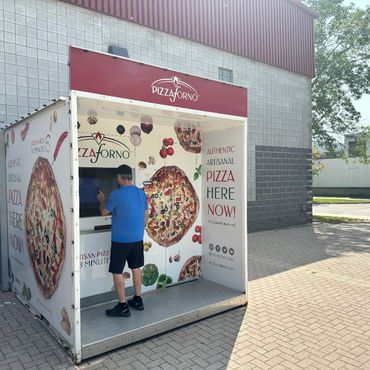 Safety Standards that Set Us Apart
Fresh, Fast, and Fuss-Free
PizzaForno has redefined the fast food industry. Not only are we revolutionizing the way people buy pizzas, but we are creating a new standard regarding safety and hygiene practices. Our machines bake the pizzas while they're in their boxes, ensuring a pure, uncontaminated taste.
At no time do the pizzas ever touch the inside of the machine. Regular cleanings, both inside and out, ensure our machines maintain the highest level of cleanliness. Customer satisfaction is our number one priority, which is why we strive to deliver a meal that's as clean as it is delicious.
Open 24/7
Our innovative automated pizzeria sets a new standard in the industry by offering delicious, freshly-baked pizza 24/7, so you can satisfy your pizza cravings anytime, day or night.
Baked Fresh In 3 Minutes
Experience unmatched convenience with PizzaForno. Our machines deliver freshly-baked, delicious pizzas in under 3 minutes, perfect for busy schedules and on-the-go lifestyles.
Take-N-Bake
Utilize the convenience of our take-n-bake option. Allowing you to take home a ready-to-cook pizza and enjoy it freshly baked at a time that fits your schedule.
High Quality Ingredients
We take pride in using only the highest-quality ingredients in each artisan pizza, which is made fresh to order, ensuring a delicious and satisfying experience with every bite.
Revolutionizing Pizza Time with PizzaForno's Smart Tech
Digital Dining
PizzaForno has three types of pizza vending machines that serve our customers! These include an Indoor, Outdoor, and ATM style kiosk. Even though we have different variations of the machines, the underlying technology is the same. We use an advanced robotic arm to transfer pizza from the refrigerated unit, to our patented convection oven.
Once the pizza reaches the oven, the robotic arm lifts it up through the five holes in the bottom of the box, and rotates it. The pizza bakes evenly on all sides due to the rotation of the robotic arm. Once the set time elapses, the robotic arm pulls the pizza out of the oven, shutting the box, then delivering it to the customer via a slot in the front of the machine. This programmed process ensures that each pizza is baked the optimal amount every time.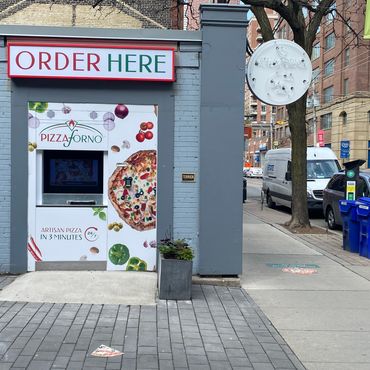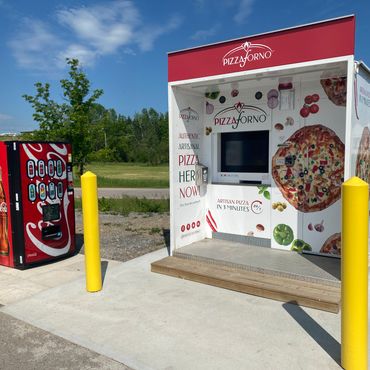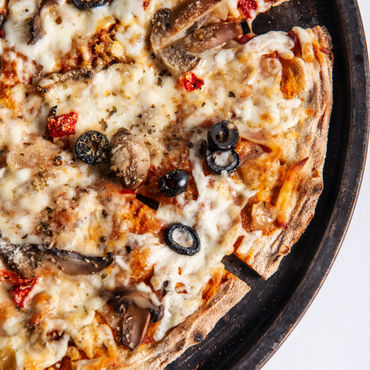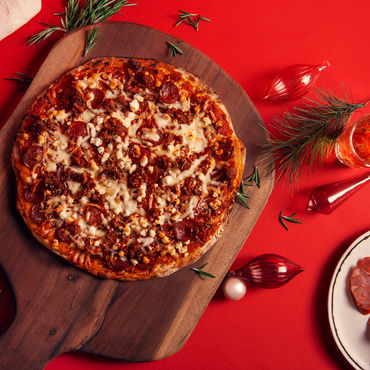 Fresh Pizza Takeout: Savor Quality Ingredients at PizzaForno
Ingredient Revolution
At PizzaForno, we take pride in serving delicious pizzas made with high-quality ingredients. Throughout the years, we have continually experimented with and improved our pizzas to ensure our customers are satisfied with their meals. Our latest improvement is a brand-new crust that offers a perfect balance of crispness and chewiness. Additionally, we've enhanced the overall volume of toppings on each pizza. Now, every pizza is made with 50% more cheese than before, ensuring rich flavors in every bite.
Each machine is stocked with our five varieties of pizza: Pepperoni, BBQ Chicken, Four Cheese, Meat Lovers, and Vegetarian. When the pizzas are loaded into the unit, they are given a strict three-day "sell by" date. This means you can always count on enjoying the freshest pizza possible.
Frequently Asked Questions
Read through some of our frequently asked questions
What is PizzaForno?
PizzaForno is a revolutionary automated pizzeria (AKA pizza vending machine) that serves up fresh, artisanal pizzas in under three minutes. Accessible 24/7 at the tap of a digital screen, each pizza is made fresh by hand, with an authentic Italian approach.
How do you ensure quality?
Once a pizza is inserted into the machine, it is given a 'sell by' date for three days later. After that date, the pizza will no longer be purchasable by customers. PizzaForno automated pizzerias are regularly stocked, and older pizzas are removed once they've passed their three day shelf life.
When are you coming to my city?
New PizzaForno locations are announced and launched every month. New locations are dependent on several factors, most notably the licensee's region of operation. Interested licensees are invited to fill out the Licensee Inquiry Form on our website.
What is your pizza made of?
You can find the nutrition facts of all PizzaForno varieties on our website. All locations use the same ingredients, as well as preparation methods.
How does it work?
Every PizzaForno automated pizzeria holds 70 12-inch pizzas. Once a customer places an order, a robotic arm takes their selection from the refrigerated section and moves it into our patented convection oven where it is baked. Once ready, the pizza emerges from a slot at the front of the machine for the customer to grab and enjoy!
Is the inside of the machine clean?
Pizzas do not actually touch the inside of the machine at any point of the loading, baking or serving process. Pizzas are baked while already inside their box. Both the interior and exterior of all PizzaForno automated pizzerias are cleaned regularly.
Will you add vegan or gluten-free options?
PizzaForno's menu currently has eight different varieties, including several vegetarian options and at least one limited-time offer. Our team is always trying to find new ways to prepare and serve the highest quality pizza for our customers. Currently, we have no definite plans to serve gluten-free or vegan pizza.
What does an automated pizzeria look like?
You can find photos of most of our locations on our Instagram page, or you can request a media kit for access to publishable images. We also have a demo here on our website.