Labrador City - Iron Ore Company Pizza Takeaway | PizzaForno
PizzaForno, located at 1601 Luce Lot 8-1, Labrador City, NL A2V 2K1, is the perfect spot to enjoy delicious artisan pizza. Join us at the Iron Ore Company and experience the future of pizza!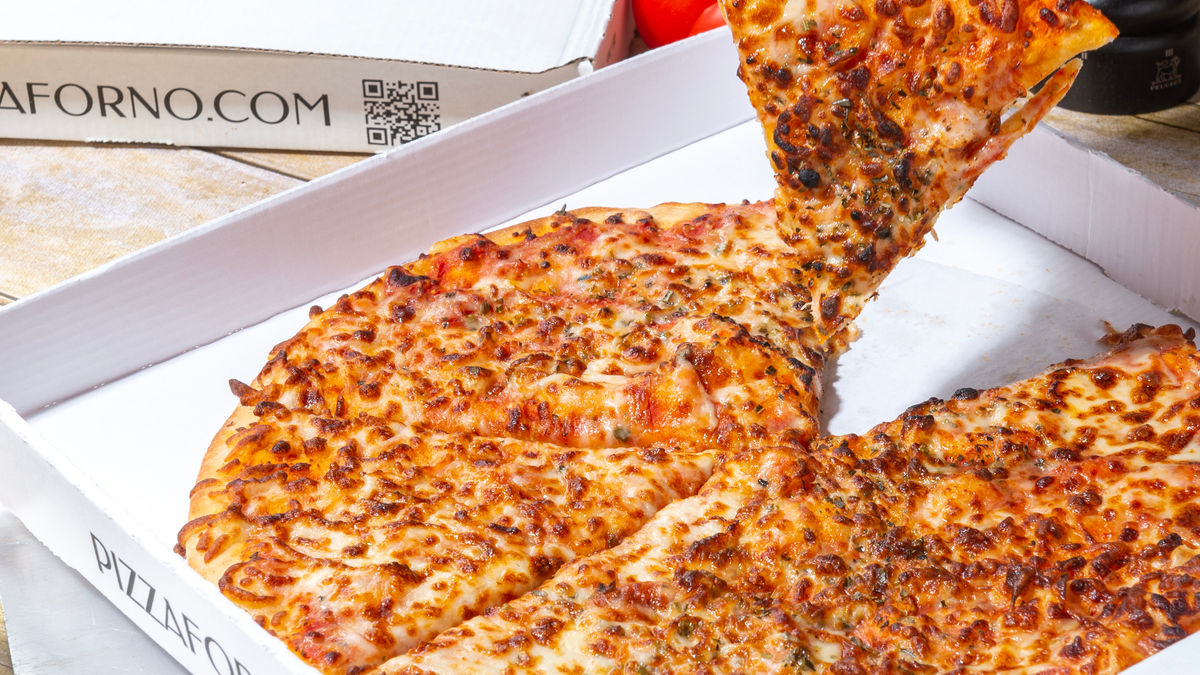 1601 Luce Street lot 08-1
Visit PizzaForno Labrador City - Iron Ore Company's pizza restaurant Today!
North America's Only
Sustainable Automated pizzeria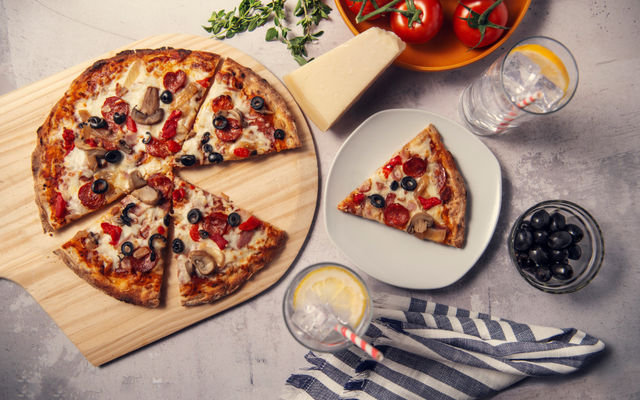 Get a free coupon code directly to your inbox!
Enter your email for a $5 off coupon code!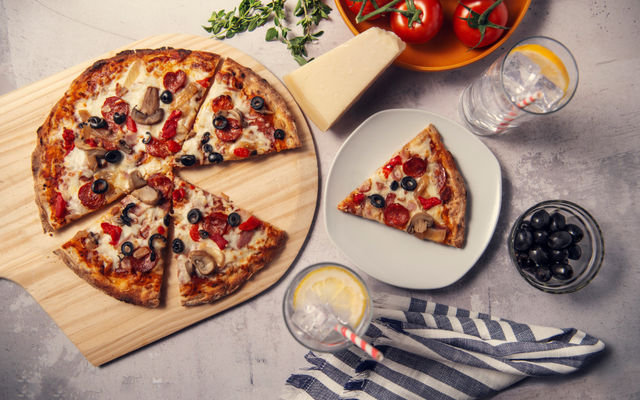 Get a free coupon code directly to your inbox!
Enter your email for a $5 off coupon code!
Read why people keep coming back to:
PizzaForno Labrador City
OMG! I just fell in love ..... a pizza machine open 24 hours. The goat cheese and honey just changed my world! - Using the take and bake option next.

Jason L.
Had no idea what to expect, but absolutely delicious! Takes 3 min to cook; Pizzas good for one person, and lots of variety for flavors.

Amanda B.
Amazing!!!!!! My Hawaiian pizza tasted so good. It was thin crust and only took 3 minutes to make. This machine makes fresh pizza!!!!!! I like their selection and will definately be looking for another one in the area soon. A must try!!! I was hesitant to try this but so glad I did!

April P.
Download The PizzaForno App!
Get exclusive in-app deals, find your closest location, check our current inventory, & even order on the app!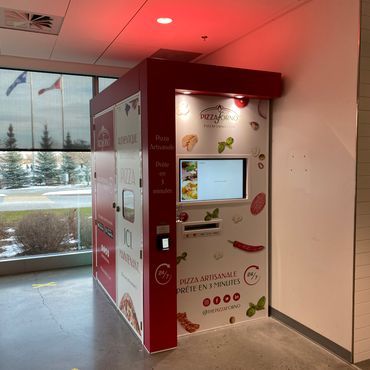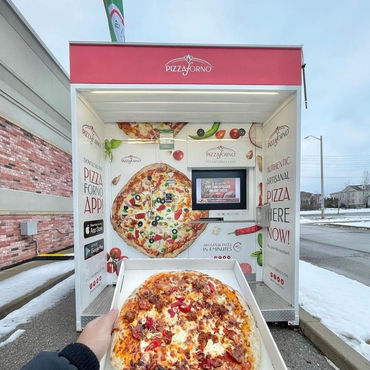 Where Safety Meets Deliciousness
Taste the Purity
Thanks to our innovative technology, PizzaForno is setting new industry-leading health and safety standards. From the moment the pizza is boxed in the factory until the moment it touches your hand, it remains untouched. By utilizing our patented convection ovens and robotic arms, the pizzas are never in direct contact with the machine.
This technology ensures that each pizza remains uncontaminated and pure. PizzaForno machines also undergo routine cleanings, creating a safe and hygienic experience every time. Next time you order PizzaForno, you'll be assured that the pizza is both safe and delicious.
Open 24/7
Our innovative automated pizzeria sets a new standard in the industry by offering delicious, freshly-baked pizza 24/7, so you can satisfy your pizza cravings anytime, day or night.
Baked Fresh In 3 Minutes
Experience unmatched convenience with PizzaForno. Our machines deliver freshly-baked, delicious pizzas in under 3 minutes, perfect for busy schedules and on-the-go lifestyles.
Take-N-Bake
Utilize the convenience of our take-n-bake option. Allowing you to take home a ready-to-cook pizza and enjoy it freshly baked at a time that fits your schedule.
High Quality Ingredients
We take pride in using only the highest-quality ingredients in each artisan pizza, which is made fresh to order, ensuring a delicious and satisfying experience with every bite.
The Secret Behind PizzaForno's Flawlessly Baked Pizzas
Automated Artistry
At PizzaForno, we are changing the way North America eats. Through the use of innovative digital displays, advanced robotics, and patented convection ovens, we have redefined the automated fast food industry. Our units are built with a computer system that operates the machine without any onsite staff. Giving us the ability to keep our machines open and operational 24/7, which means you can get fresh pizza whenever you desire.
Upon placing an order at our machine, the robotic arm scans the refrigerated section for the selected pizza. Once located, it transfers the pizza to the oven. The bottom of the box was designed with five holes, which the robotic arm uses to lift and rotate the pizza during cooking. This ensures that the crust is crispy and the cheese is evenly melted. After the pizza is baked, the machine seals the box and dispatches the pizza through a slot at the front for you to collect.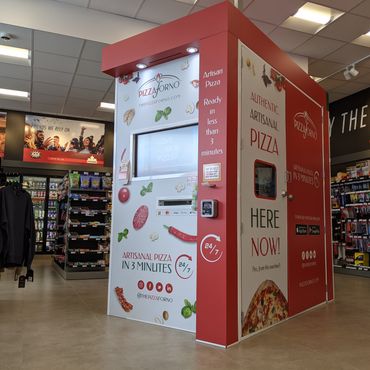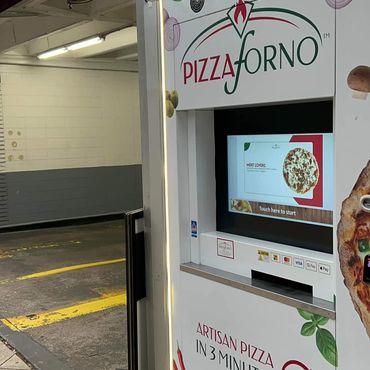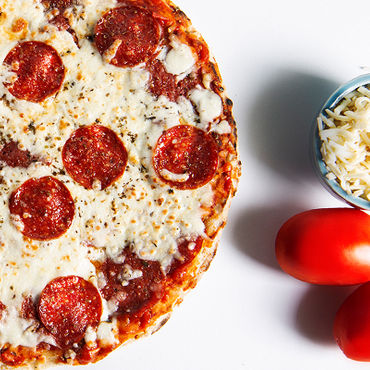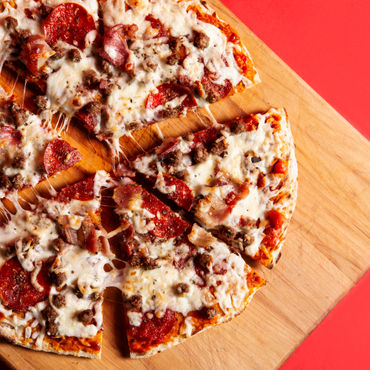 Indulge in Fresh, High-Quality Pizza at PizzaForno
Elevated Standard
We take pride in serving pizzas made with quality-sourced ingredients. Each pizza is made at our central factory, where we follow strict protocols to ensure consistency and freshness. Once the pizzas leave our warehouse and are stocked in the machines, they are given a three-day "sell by" date. We prioritize freshness at PizzaForno, and our state-of-the-art robotics system plays a crucial role, automatically cycling out pizzas after three days to ensure every customer enjoys a fresh, high-quality pizza that lives up to the PizzaForno standard.
We have just released our new pizza crust that combines perfectly with our variety of toppings, offering a delicious flavor with every slice. This crust, a result of extensive research and testing, is specifically designed to bake to perfection in our convection ovens. We've also elevated the experience further with a 50% increase in cheese per pizza, ensuring each pizza meets our high standards.
Frequently Asked Questions
Read through some of our frequently asked questions
What is PizzaForno?
PizzaForno is a revolutionary automated pizzeria (AKA pizza vending machine) that serves up fresh, artisanal pizzas in under three minutes. Accessible 24/7 at the tap of a digital screen, each pizza is made fresh by hand, with an authentic Italian approach.
How do you ensure quality?
Once a pizza is inserted into the machine, it is given a 'sell by' date for three days later. After that date, the pizza will no longer be purchasable by customers. PizzaForno automated pizzerias are regularly stocked, and older pizzas are removed once they've passed their three day shelf life.
When are you coming to my city?
New PizzaForno locations are announced and launched every month. New locations are dependent on several factors, most notably the licensee's region of operation. Interested licensees are invited to fill out the Licensee Inquiry Form on our website.
What is your pizza made of?
You can find the nutrition facts of all PizzaForno varieties on our website. All locations use the same ingredients, as well as preparation methods.
How does it work?
Every PizzaForno automated pizzeria holds 70 12-inch pizzas. Once a customer places an order, a robotic arm takes their selection from the refrigerated section and moves it into our patented convection oven where it is baked. Once ready, the pizza emerges from a slot at the front of the machine for the customer to grab and enjoy!
Is the inside of the machine clean?
Pizzas do not actually touch the inside of the machine at any point of the loading, baking or serving process. Pizzas are baked while already inside their box. Both the interior and exterior of all PizzaForno automated pizzerias are cleaned regularly.
Will you add vegan or gluten-free options?
PizzaForno's menu currently has eight different varieties, including several vegetarian options and at least one limited-time offer. Our team is always trying to find new ways to prepare and serve the highest quality pizza for our customers. Currently, we have no definite plans to serve gluten-free or vegan pizza.
What does an automated pizzeria look like?
You can find photos of most of our locations on our Instagram page, or you can request a media kit for access to publishable images. We also have a demo here on our website.